Course details
【From 21 o'clock limited】 2 hours with all you can drink 【2nd meeting】 Government course 【All 4 items / 3000 yen → 2500 yen】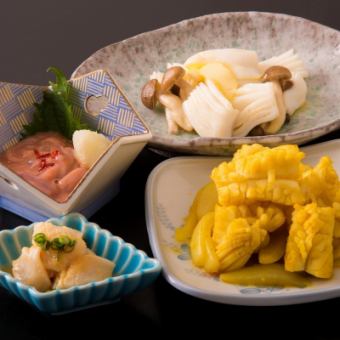 By using a coupon2500 Yen
All-you-can-drink available

You can add customized sake · authentic Shochu as all you can drink as standard drinks available at +1000 yen (tax excluded).
Available days for reservation

Monday - Sunday - Public holidays - Holidays
Banquet course that is most suitable for second party only after 21 o'clock.
Course menu
【1】 Edamame
【2】 heap potato fried
【3】 Deep-fried chicken
【4】 Soup curd rolled egg
ー ー ー ー ー ー ー ー ー ー ー ー ー ー ー ー ー ー ー ー ー ー ー ー ー ー ー ー ー ー ー ー ー ー ー ー ー ー ー ー
※ 500 yen OFF coupon usage price.
※ From 2 people, reservation required / before holiday is available from 3 people.※ Friday, Sunday and public holiday will be two hour system.
※ December will be two hour system.※ The busy month (Year End Party season, Bon Festival, Weekend ...) has all-you-can-drink two-hour system.
You can add as much as you want to drink 10 kinds of sake by ※ + 1000 yen.
* The contents may change depending on the purchase situation.
ー ー ー ー ー ー ー ー ー ー ー ー ー ー ー ー ー ー ー ー ー ー ー ー ー ー ー ー ー ー ー ー ー ー ー ー ー ー ー ー
All-you-can-drink menu
·draft beer
· Sapporo Classic
· Shochu · Sour · Shochu High
· Potato · wheat (rock · straight · water · soda split) / lemon sour / cork saw / lime sour / lyche saw / peach sour / man plum sour / oolong hi / green tea high
·Sake
· Cold · 燗
·wine
·Red and white
·Fruit wine
· Various rock · straight · water · soda split / plum wine / yuzu sake / litchi liquor / peach wine / mango sake
· Whiskey · Highball
· Black / High Ball / Cork High Ball / Ginger High Ball / Yuzu Hi Ball / Peach High Ball / Litchi High Ball / Mango High Ball / Guava High Ball / Ome Hi Ball
·Cocktail
· Panache / Shandigafu / Vodka Tonic / Mosconeur / Screwdriver / Reggae Punch / Peach Orange / Peach Fizz Di / Gin Tonic / Jin Back / Lychee Oolong / Rauchi Soda / Lychee Orange / Campari Soda / Campari Orange / Rum Tonic / Lamb Back / Cassis Soda / Cassis oolong / cassis orange
·Soft drink
· Coca Cola / Gingeraire / lemon juice / orange juice / oolong tea · green tea
· All you can drink special at +1000 yen
· 【Sake (cold · 燗)】 浦 霞 / Kubota sengusi / Katsumori Rice in the North / Kamiyama Kimoto 【Shochu (rock · straight · water split · soda split)] Black Kirishima / Unkai / Ren and / Yoriko / Waka Wheat noodles
2018/11/01 update